CLOSED SEASON BISON: Manning District
The Hay-Zama lowlands located west of High Level were selected in the late 1970s and early 1980s as a suitable location for the reintroduction of wood bison. In 1983, 29 bison were introduced from Elk Island National Park, located east of Edmonton. The Alberta Fish and Wildlife Division has monitored the gradual increase in bison numbers and their range by conducting aerial surveys in the late winter. During the 2007 survey, approximately 650 bison were seen in an area ranging from the Hay-Zama Lakes to the Chinchaga River to the Zama City area. The Fish and Wildlife Division has categorized the area west of Highway 35 and north of the Chinchaga River as a Bison Protection Area and any bison within that area are classified as Endangered.
On July 4, 2007, Owen Lake Pickell, 18, of Fort St. John, British Columbia and Steven Neil Dean, 39, of Chateh, Alberta appeared in Chateh Provincial Court before Judge E. J. Simpson. Pickell pled guilty to one count of hunting wildlife during a closed season and one count of allowing the edible flesh of big game to be wasted. As a result, Pickell was handed total fines of $11,500 and suspended from holding a recreational hunting license for six years. Dean pled guilty to one count of allowing the edible flesh of big game to be wasted and received a $5,750 fine plus a one-year recreational hunting licence suspension.
The court heard that on April 8, 2007, at 11:00 p.m. a public complaint was received regarding a bison calf that had been killed inside the protected area. The following morning at approximately 7:00 a.m., Fish and Wildlife officers attended the scene and located a head and gut pile from a calf bison. Officers obtained a vehicle description belonging to a construction company in Assumption, Alberta. Investigators attended the construction company and located a vehicle of interest. A red Dodge parked behind the shop displayed blood on the side and in the box. Officers also observed a rifle and bloody knife inside the cab of the vehicle. A check of the BC licence plate revealed that the vehicle belonged to Pickell.
Pickell provided a statement, at which time he admitted to shooting the bison calf, loading it using a picker truck and then transporting the bison to the construction camp. Upon arrival back at camp, the camp manager – Dean – told Pickell that he could not keep the bison as it was a protected animal. It was decided that the bison would be buried at one of the lease sites. Pickell and Dean drove to a lease site and buried the bison carcass.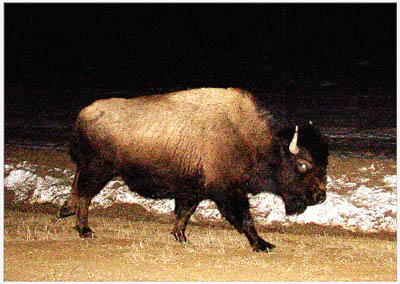 Bison are protected west of Highway 35 and north of the Chinchaga River.
A statement was obtained from Dean confirming that the bison calf had been buried, at his direction, near a lease site.
The rifle, knife and blood samples were seized from Pickell's truck. Arrangements were made for Pickell to retrieve the bison and turn it over to investigators. On April 10, 2007, Pickell used an excavator to dig down approximately 20 feet in order to unearth the bison carcass and place it into the back of a Fish and Wildlife patrol vehicle.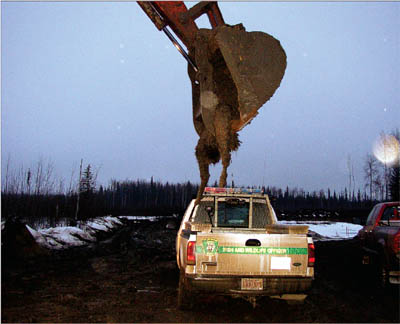 The bison carcass was exhumed and placed into the officer's patrol vehicle.
SETTING THE HOOK ON FISH POACHERS: Hinton District
On June 6, 2007, two residents of Hinton appeared in Hinton Provincial Court to answer to numerous charges laid in relation to events that occurred in early April of 2007. Upon hearing the circumstances, Judge Don Norheim accepted the guilty pleas and fined the pair $2,700 in total – $1,800 of which was to be directed to the Alberta Stream Watch Coalition. In addition to the fines, both men were further prohibited from fishing in Alberta for a period of one year.
On April 7, 2007, a Fish and Wildlife officer was conducting fisheries compliance checks east of Hinton. Upon approach at a popular fishing hole, he observed two individuals fishing together along the banks of the Athabasca River. The Athabasca River opened on April 1 in that area, making it one of the only flowing water bodies open to fishing that early in the year. In an effort to evaluate compliance with regulations, the officer monitored the two fishermen from a distance. Over a one-hour period, the officer noted both anglers catch and retain several fish. From his observation point approximately 75 metres away, the officer was able to hear parts of their conversation and identify some of the fish they caught and retained. In total the officer observed one male, later identified as Justin James Hope, 20, catch and kill three fish. He observed Gregory David Day, 29, catch and kill two fish. No effort was made by either man to measure any of the fish they caught to ensure they met the minimum legal size requirement. The officer observed only one fish that had been released – what appeared to be a Rocky Mountain whitefish released by Hope.
The last fish that Day was observed to catch and kill appeared to be a bull trout. Bull trout populations have declined in Alberta due mainly to over fishing. The species has been intensively managed over the past decade and is strictly a catch and release fishery.
The fish that day brought in was later confirmed to be a bull trout and had been caught on a second illegal "dead line" that Day and Hope had been monitoring. Hope assisted Day in landing and killing the bull trout and had clearly stated to Day, after looking towards shore, that "We should stash it." They were then observed by the officer to hide the fish in an old beaver run approximately 50 metres from where they were fishing and some distance from their other cache of fish.
Although Day was observed to bait and set the dead line, Hope had offered to check it on at least one occasion. After caching the bull trout, Hope suggested to Day that they should set up the extra rod as an additional dead line.
Regulations are clear in that only one line may be fished in open water. The dead line in question was a baited pickerel rig attached to a spool of fishing line that was concealed along the edge of the ice. Use of bait is strictly prohibited as a means of curbing hooking mortality, which is generally higher for fish hooked in the gill area and stomach region. About 25 per cent of trout caught on natural and scented baits die after release, compared with less than 4 per cent caught on flies and lures.
It was at that point that the officer intervened. He greeted the men and asked how their day was going. Both men advised the officer that fishing wasn't bad and that they had been fishing for about an hour. When asked if they had caught any fish, Hope responded that they caught about five, but all were released. When asked, both acknowledged that they did not hold valid angling licences.
Although the pair maintained that they kept no fish, the officer advised them of what he had observed and proceeded to retrieve several trout stashed beneath a thin layer of ice along shore.
Upon questioning, Hope indicated that the group of four fish was his catch while Day claimed the group of three. All fish were identified as rainbow trout, one of which measured under the legal size.
The officer inquired about the dead line they had been using and eventually located it. Day and Hope acknowledged responsibility for the second set line that had been baited with bacon on barbed hooks. In addition, the men were found using barbed treble hooks. Barbed hooks have been prohibited for use in Alberta for the past five years.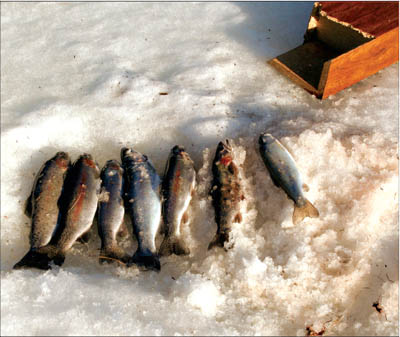 The men claimed to have released all their fish, but the officer knew better.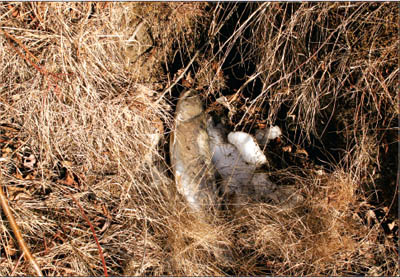 Day and Hope hid the illegal bull trout in an old beaver run.

We invite wildlife and fisheries enforcement officers
from all jurisdictions to submit current and significant
cases for inclusion in The Notebook segment of
this publication. Details of case files can be sent to:

Email: gamewarden@wtc.ab.ca
or
ALBERTA GAME WARDEN,
Jeremy Lindsay, Box 690
Smoky Lake, AB T0A 3C0

All details must be accurate public record.
Photos are welcome.