Paddle swinging walleye killers: Barrhead District
A group of three anglers came under the watchful eye of an observant member of the public at Lac Ste. Anne on June 4, 2006. Their illegal actions were called in to the Fish and Wildlife Division's Report A Poacher hotline and to a field officer who intercepted the trio leaving the lake.
The three men were observed fishing from a boat near the Val Quentin area of Lac Ste. Anne. Over a short period of time, the witness saw each of the men land walleye and kill them with a paddle. The three men left the area and headed for the public boat launch at Alberta Beach. When they noted a member of the Alberta Conservation Association approaching the boat to conduct a creel survey, they quickly turned their boat around and returned to the area where they had been fishing. One of the men was dropped off on the shoreline along with the fish and fishing equipment. The others headed back to the public boat launch and loaded the boat, after which time they returned and picked up their buddy, fish and fishing gear.
A short time later the vehicle was stopped by an officer. The driver admitted to fishing, but claimed he did not keep any fish. The two others stated they weren't fishing. When the officer asked the driver if there were any fish in the vehicle, he stated that there were not, adding that he had fished the lake for many years and knew that the walleye limit on the lake was zero. He consented to a search, which produced five walleye from under the closed lid of the spare tire compartment. None of the men possessed sportfishing licences.
On June 22, 2006, Anthony Loughlean, 29, Ruslan Lechkevitch, 29, and Boris Vaynsheteyn, 19, all of Edmonton, appeared before a Traffic Commissioner in Stony Plain provincial court and plead guilty to several charges. Loughlean was handed a total of $2,500 in fines and a three-year sportfishing licence suspension. Lechkevitch and Vaynsheteyn were each assessed $1,000 in fines and three-year sportfishing licence suspensions. Fines totaled $4,500 and 9 years of fishing suspensions.
Lac Ste. Anne, located approximately 35 miles west of Edmonton, was classified as collapsed in 1997, and has been steadily recovering as a result of the zero catch limit for walleye. The lake has one of the highest records of public complaints in the province relating to noncompliance of fisheries legislation.
Hunting privileges abused: Sundre District
On Sept. 7, 2006, a Calgary man appeared in Didsbury provincial court to answer to 12 charges stemming from four illegally killed elk.
Brian Dwight Bamlett, 35, entered guilty pleas to four counts of hunting wildlife during a closed season and as a result was handed $6,000 in fines and a four-year recreational hunting licence suspension.
On Feb. 14, 2004, Sundre Fish and Wildlife officers received information regarding four illegally killed elk in the Eagle Creek Sanctuary. Officers attended the location and identified kill sites of four elk. All four animals were killed within the boundaries of the sanctuary. It is unlawful to hunt within 400 yards of the road, however, the officer learned that the elk were killed at 66, 190, 210, and 295 yards from the road.
The investigation led officers to the residence of Vince Stanley in Calgary, where a search warrant was executed. They discovered the four illegal elk hanging in the garage. All four animals along with packaged elk meat from a freezer were seized.
A statement from Stanley revealed that he drove Bamlett, a Treaty Indian, to the Ya Ha Tinda Ranch located west of Sundre. Both men noted a large sign at the entrance of the sanctuary. In addition, they were advised by the ranch manager and ranch hand that no one, including Treaty Indians, could hunt in a road corridor sanctuary. Bamlett disregarded that information and shot the four elk.
The seized elk were taken to a butcher on Feb. 15, 2004, where they were skinned by the butcher and investigating officers. It was noted that the front halves were spoiled. On June 20, 2005, Vince Stanley, 65, appeared in Didsbury provincial court and entered a guilty plea to one count of allowing the edible flesh of big game to be wasted. Stanley was given a $1,200 fine.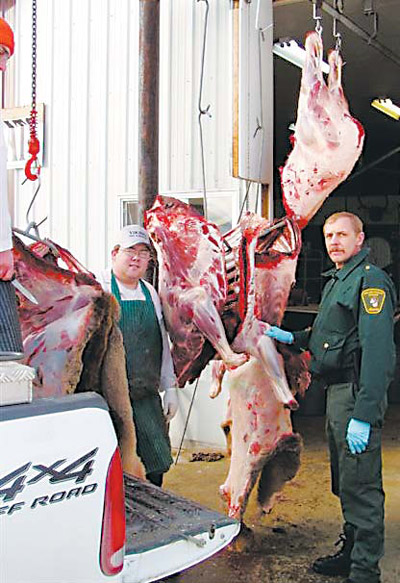 A Fish and Wildlife officer and butcher inspect the seized elk meat.
It was later discovered that some of the meat had spoiled.

We invite wildlife and fisheries enforcement officers
from all jurisdictions to submit current and significant
cases for inclusion in The Notebook segment of
this publication. Details of case files can be sent to:

Email: gamewarden@wtc.ab.ca
or
ALBERTA GAME WARDEN,
Jeremy Lindsay, Box 690
Smoky Lake, AB T0A 3C0

All details must be accurate public record.
Photos are welcome.