Guided hunt in wrong zone: Lethbridge District
A 44-year-old Taber man appeared in Taber provincial court to learn the consequences for breaking the rules.
On April 12, 2005, Donald Wayne Wilson entered a guilty plea to hunting wildlife without a licence and, as a result, was handed a $5,175 fine and a one-year recreational hunting licence suspension.
On Sept. 21, 2004, a Fish and Wildlife officer was conducting a patrol southwest of Taber in Wildlife Management Unit (WMU) 112 when he stopped and checked two non-resident alien hunters (U.S. citizens). It was learned that the two hunters, guided and contracted to hunt antlered mule deer under Wilson, were being guided by another person. Wilson contracted the hunts under Wilson's Rocky Mountain Adventures.
An inspection of the their licences revealed they were not valid in the WMU in which they were hunting. The one licence was valid for a WMU located south of Calgary while the other was valid in a WMU west of Pincher Creek.
In a cautioned and chartered statement, investigators learned that the hunters had been guided into the wrong management units on two separate occasions in a two-day time span. Officers also discovered that the guide did not have a valid guide's licence.
Fog stalls fish poachers: Fort McMurray District
On Aug. 26, 2004, Fort McMurray Fish and Wildlife officers were conducting fisheries compliance checks in the Richardson Lake Backcountry area located 200 kilometres north of Fort McMurray. This area is only accessible by floatplane or off-highway vehicle. On this particular day, the weather brought heavy fog into the area, which restricted aircraft flight and caused a delay in the pick-up of some anglers.
Officers subsequently met five people that had fish in their possession. After inspecting frozen fish inside a cooler, officers noted that the fish could not be readily identified. William S. Potvin, 64, of Fort Saskatchewan, Arnold Godin, 62, of Calgary, Gary Johnson, 58, of Medicine Hat, Gerald Heck, 64, of Sherwood Park and Mierau Hilton, 57, of Cochrane were all charged with unlawfully possessing game fish other than at permanent residence so that the species could not be readily identified.
Upon subsequent investigation on Aug. 30, 2004, the fish were thawed and officers discovered that the five anglers were over-possession and that the length and number of the fish could not be determined. All fish seized during the investigation were sent to the Alberta Fish and Wildlife forensic lab in Edmonton for analysis.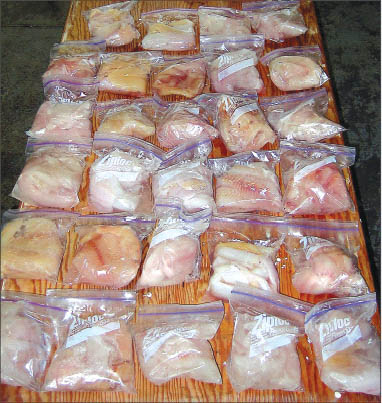 All fish siezures were sent to the Fish and Wildlife Division
forensic lab in Edmonton for analysis.
The lab reported that the fish represented a minimum of 42 walleye and 10 northern pike. As a result, investigators served summonses for three additional charges to each member of the fishing party. The three additional charges were for unlawfully possessing game fish other than at permanent residence so that the number of fish could not be readily determined; unlawfully possessing game fish other than at permanent residence so that the length could not be readily measured; and exceeding the possession limit for fish.
On April 19, 2005, all parties had an agent appear in Fort McMurray provincial court to enter guilty pleas on their behalf. Total fines were $7,580 including five years of recreational sport fishing licence suspensions (or $1,516 in fines and a one-year licence suspension for each person).

We invite wildlife and fisheries enforcement officers from all jurisdictions to submit current and significant cases for inclusion in The Notebook segment of the publication. All details must be accurate public record. Please send case file details and photographs to:

THE ALBERTA GAME WARDEN
Jason Hanson
5201 - 50 Avenue
Wetaskiwin, Alberta, Canada T9A 0S7