Brothers bagged - Bonnyville district
No matter the plan, poachers always make mistakes. The Bloom brothers made theirs when they illegally killed a pair of moose calves north of Bonnyville.
On Nov. 3, 1998, Scott Bloom, 26, and Jason Bloom, 24, appeared together in Bonnyville provincial court to answer to charges of hunting outside an open season, unlawful possession of wildlife and giving false and misleading information to a wildlife officer. Judge M. Hopkins ordered both brothers to pay total fines of $4,930 and suspended their recreational hunting privileges for four years in relation to the illegal moose hunt.
These fines related only to the killing of the moose where both brothers were involved.
The court heard that on Oct. 3, 1998, Scott and Jason Bloom were hunting moose along the Sand River, north of Glendon, Alberta. The Wildlife Management Unit (WMU) they were hunting in was only open for archery hunters. However, Jason shot one of a pair of moose calves with a 7mm rifle. He was not licensed to hunt moose at all so he walked away from the wounded calf to tell his brother Scott, who was licenced for moose and was hunting with archery equipment. Scott located the wounded calf and killed it.
But he didn't stop there. He found a second calf and killed it too. Without tagging or dressing either animal, both men left the area. As they were on their way home, a wildlife officer stopped their vehicle and questioned them about their hunting activities. They advised the officer that they had wounded a moose but were unable to locate it. The officer also questioned them about some fresh blood that was present in the box of their truck. The blood was later connected to a white-tailed deer that Scott Bloom had illegally killed earlier.
The next day, the Bloom brothers and a companion, who had a moose licence, went back to the kill site to retrieve the carcasses of the two moose calves. Scott tagged the calf that had been illegally killed with the rifle and the friend tagged the second calf.
As they were butchering the carcasses, a wildlife officer confronted them. It was apparent to the officer that one of the calves had been shot with a rifle and he took written statements from all three men. The trio maintained that both calves were shot with arrows on Oct. 3, and were not tracked down until Oct. 4.
The moose carcasses were seized along with their hunting equipment. In the course of conducting the investigation, part of one of the moose calves was sent to the forensics laboratory in Edmonton to determine if the animal had first been shot with a rifle. This was confirmed by forensic analysis and the bullet was later recovered from the carcass.
In addition to levying the fines associated with the illegal moose hunt, Judge Hopkins fined Scott Bloom a further $1,150 for unlawful possession of an illegally killed white-tailed deer and suspended his recreational hunting privileges for one year. In the end, participating in the illegal activity cost the Bloom brothers more than $6,000 in fines.
Naked fish cost local boys $450 skins - Fort McMurray
When in doubt, don't fillet your catch until you get home. Regulations set up to protect vulnerable species such as walleye, require anglers to take these fish home whole so the species is readily identified.
Two Fort McMurray men paid $450 in fines for carrying fillets away from Jackson Lake last summer.
On Aug. 18, 1998, Marlon Mclean, 25, and Darren Bennet, 28, appeared in Fort McMurray provincial court to answer to charges of possessing game fish where the species could not be readily identified and possessing game fish, the length of which could not be readily determined.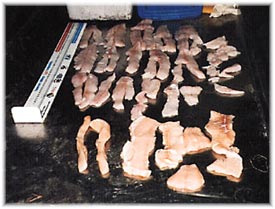 The charges came as a result of a check stop that was conducted by wildlife officers on June 14, 1998, on the Fort Chipewyan winter road north of Solvex. Mclean and Bennet were checked on a quad while they were travelling from Jackson Lake to their vehicle, which was parked near Solvex. They were in possession of a minimum of 14 unidentifiable fillets, that appeared as though they were walleye fillets and four other unidentifiable fillets that appeared as though they were pike fillets.
There is currently a 50cm size requirement for walleye in the Jackson Lake area, and walleye are required to remain whole with the skin attached so the species and length can be determined. It should be noted that fish taken in areas where there are such regulations can only be altered when the person arrives at his/her permanent residence.
Judge S.G. Peck ordered Mclean to pay $150 for altering the length of the fish so that their size could not be determined. Bennet was ordered to pay fines of $300 for altering the length of the fish so their size could not be determined and removing all of the identifying skin from the fillets.