Last shoe drops as fish poacher convicted - High Prairie District
In the Winter/98 issue of The Alberta Game Warden, there was a High Prairie story about three men who plead guilty to over-limit possession of walleye from Lesser Slave Lake. They had, as a group, caught and retained 47 walleye. These men were each fined $2,500 for a total of $7,500. The fourth man in this group was Nam So Tran of Edmonton. He plead not guilty and took his case to trial in High Prairie provincial court on Jan. 27, 1998.
Court heard that Tran was observed by a plainclothes Fish and Wildlife Officer as he was fishing, with three other individuals, from the Grouard Bridge into Lesser Slave Lake. On three separate occasions they were noted catching their limits of walleye then loading the fish into a car and leaving the area. On the third trip the vehicle was observed stopping behind a High Prairie restaurant. One of the men was observed carrying fish through the back door and into the kitchen of the restaurant. Tran then returned to the Grouard Bridge at which time the other three individuals loaded 11 more walleye into the car.
Search warrants were executed on the vehicle and at the restaurant. Eleven walleye were seized from the car and 14 more were seized from the kitchen of the restaurant. One suspect volunteered the whereabouts of another seven walleye that were located at a local residence. He admitted that the group had caught the seven fish earlier in the day. Investigators believed that a total of 47 walleye were taken that day. A total of 32 fish were seized. The daily possession limit for the four men was three fish each.
Tran claimed that he had been fishing with the other three men but had caught only three of the fish. Witness testimony contradicted his claim and Judge R. P. Smith subsequently found Tran guilty and fined him a total of $2,500, the same as the other three men. His fishing gear was ordered forfeited to the Crown and his sportfishing license was suspended. Fines for this case totaled were $10,000.
Charges laid following discovery of carcasses - Red Deer District
On Mar. 3, 1998, a Red Deer Fish and Wildlife Officer received information that the remains of a moose and several deer had been dumped along the Red Deer River near an overpass on Highway 2.
An officer attended the scene and found two hindquarters of a white-tailed deer, four hindquarters of mule deer and two front and two hindquarters of a moose. There were also some parts of a moose hide and some moose feet found at the site. In all, there were remains of at least four separate animals: a moose, a white-tailed deer and two mule deer.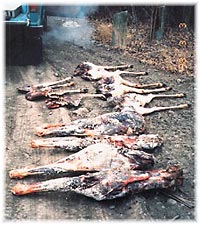 Evidence collected at the scene, specifically a metal big game tag that was still attached to the hindquarter of the white-tailed deer, led authorities to a Red Deer residence.
It was learned that the owner of the tag shot the white-tailed deer in mid-November, 1997. The carcass was then hanged and later processed at Dale Sumlak's residence, a friend of the hunter's. Sometime in February, Sumlak contacted his friend to advise him that the meat had spoiled. This was the last time the pair spoke about the deer.
On Mar. 4, 1998, an officer discussed the matter with Sumlak who at first denied having any knowledge of the animals that had been discarded. He recalled the incident after being shown photographs of the Highway 2 discovery.
Sumlak admitted to officers that it was his fault his friend's deer had spoiled. He also took responsibility for his own mule deer buck spoiling and the two other animals that had been killed by his native roommate. He also accepted full responsibility for illegally disposing of the meat. In total, he was charged with four counts of wasting meat and one count of littering.
On Apr. 6, 1998, Sumlak appeared in Red Deer provincial court before a Commissioner and plead guilty to all five charges. He was fined $4,500 for the four counts of wastage, and $115 for unlawfully disposing wastes on public land. Sumlak was also prohibited from possessing a recreational hunting licence for a period of five years.