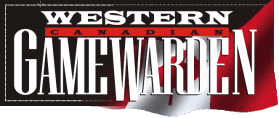 OFFICER'S NOTEBOOK - Winter 1997
Killing Spree at High River
A Calgary man paired up with a Treaty Indian for an illegal-hunting spree has been ordered to pay $14,800 and forfeit his hunting license for five years.
Robert John Smith answered to numerous charges in Okotoks provincial court on Oct. 21, 1996 relating to an investigation by High River Fish and Wildlife officers that began in December,1995.
Smith plead guilty to eight Wildlife Act charges and Commissioner P.M. Mcllhargey fined Smith and imposed the maximum allowable hunting license suspension under the Wildlife Act. In addition Smith lost his firearm with all of the forfeited wildlife seizures.
Officers were first tipped off after receiving a complaint concerning illegal hunting activities conducted by Smith and a treaty Indian. Extensive investigation and three search warrants later, numerous charges were laid in connection with the killing of 13 big game animals.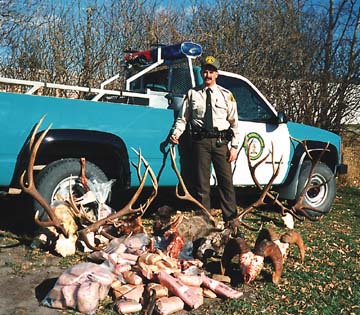 The court heard officers received information that Smith had shot a deer during the shotgun season without the proper permission. Further investigation revealed Smith did not possess a license to hunt the deer at all. While seizing the illegal mule deer doe from Smith's residence, officers located three quarters of moose meat also belonging to Smith. Tests performed later determined the moose meat was unfit for human consumption. Again, Smith was not licensed to hunt moose. During questioning Smith informed officers that a treaty Indian had shot the moose and demanded it be returned to him. Officers learned in the course of their investigation that these two individuals had killed numerous big game animals over the previous four-month period.
The case against Smith was fortified after the treaty Indian was interviewed in the Calgary Remand Centre while serving jail time on an unrelated matter. The information he provided clearly showed that he was only along to cover the illegal animals shot by his employer, Smith.
The cover-off theory appeared to work well as during their illegal hunting spree they were checked twice by wildlife officers and once by a park ranger. On the surface, everything appeared to be legal during these checks.
The investigation determined that Smith illegally killed four large bull elk, two trophy bighorn sheep, three deer, three antelope and one moose. Portions of the moose and other meat were left to spoil.
Illegal Guiding Costs Man Almost $16,000 - Swan Hills
A Swan Hills man, who illegally received payment for a guided hunt involving five American sportsmen, has been ordered to dig deep for $15,926 in fines and restitution.
Jerome Hummelle appeared in Barrhead provincial court on Nov. 26, 1996, to answer charges of illegally accepting payment for guiding the hunters, under a class C guide's license. In addition to the cash penalty, Judge N.A.F. Mackie imposed a three-year hunting and guiding license suspension.
A class C guide's license can be issued to a resident of Alberta who wishes to take out hunting no more than two persons who reside outside Alberta. Before 1996, the guide's license would only authorize the holder to take out residents of Canada. In 1996, for the first time, the class C guide's license allowed the holder to take out as many as two non-resident aliens (persons who reside outside of Canada), every three years. Persons who guide hunters under the authority of a class C guide's license are prohibited from accepting any compensation for their guiding services. So the large majority of cases the class C guide's license is used only to take friends and/or relatives out hunting.
Wildlife officers in Swan Hills received information of illegal guiding under a class C guide's license and followed up the tip by interviewing the hunters and guides involved in the activity. Officers questioned the guides and their clients in Fort Assiniboine, Alberta on Nov. 21, 1996, and four days into their white-tailed deer hunt. All of the hunters involved were unaware that they were paying for illegal guiding services.
Judge Mackie heard that Hummelle charged his hunters between $1,600 and $2,450 each.
Hummelle unsuccessfully tried to convince the judge that he was not making any money at these rates. A letter from one of the hunters was then read to the court. A portion of the letter read "I feel that Mr. Hummelle has breached his agreement for a six-day legal hunt and placed all his clients in a very undesirable position due to the fact that we hunted unknowingly, on an illegal license. We (I) would greatly appreciate your efforts in seeing that all parties are reimbursed and this matter would be taken into consideration in determining appropriate consequences for Mr. Hummelle's inappropriate and illegal behavior."